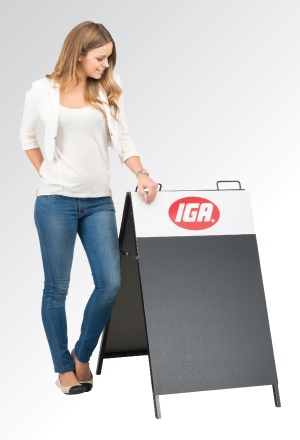 Our stylish Blackboard A-Frames are a perfect choice if you would like to advertise different messages or specials each day!
Double Sided - Logo and Blackboard on both sides of A-Frame
Waterproof and designed for outdoor use.
Great way to attract new customers into your store.
Light enough to carry, yet heavy enough not to blow over.
Sturdy powdercoated metal frame.
Strong 3mm Aluminium composite panel on both sides
Stylish appearance with no visible fixings.
Packed Weight: 600mm W x 600mm H : 8 kgs, 600mm W x 900mm H : 9 kgs
Pricing is based on your logo placed at the top of the A-Frame with blackboard below it. Any variations to this will be priced at a higher rate – some examples are shown in the photos on the web page. Please email any further variations to sales@easysigns.com.au for a quote.
*
24 hour production
is available for orders up to a value of $500 + GST. Refer to FAQ's for production times on larger orders.
** Fixed shipping of $24 + GST applies for up to 5 frames, for larger quantities an extra freight surcharge of $50 + GST is applied. The fixed shipping price is based on delivering your entire order to one location.