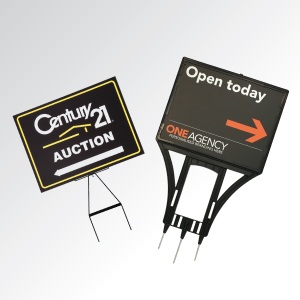 Our Ground Spikes & Signholders are a cost efficient method of displaying your corrugated plastic signs on a soft ground surface. These sign holders are very popular with Real Estate agents.
Cost efficient Signholders for Corrugated Plastic Signs
Suitable for 5mm thick Corrugated Plastic Signs
Our Signholder requires a 500mm W x 400mm H sign
Our Signholders are available in black, white, red, blue or gold colour
Signholders are sold only in packs of 5
Metal Ground Spike: max. recommended sign size of 600mm W x 450mm H
Metal Ground Spikes sold only in packs of 10
Signflute™ Corrugated Plastic Signs sold separately
When purchasing Signholders, please let us know the colour frame you would like in the order notes after you complete the checkout process.
** Important: Our Metal Ground Spikes are only suitable for signs that have vertical flutes. When ordering Signflute™ Corrugated Plastic Signs to go on Metal Ground Spikes you must specify that you require the flutes to run vertically.
Click here to order some Signflute™ Corrugated Plastic Signs to put on your spike sign holders.
** The fixed shipping price is based on delivering your entire order to one location.