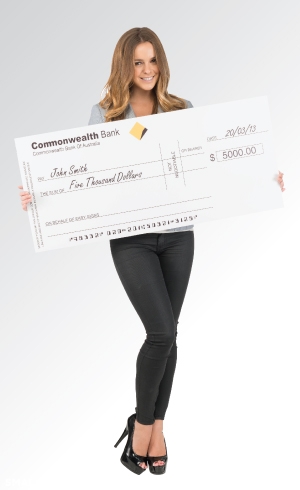 We can produce large Novelty Cheques for you to present at your next event. We can also provide an optional whiteboard lamination to create a re-usable novetly cheque. With this option you can write your own details on the cheque - and then remove them and use the cheque over and over again with a whiteboard marker.
How to proceed with your order:
1. Add a Novelty Cheque to your cart and checkout - then add notes to your order advising:
a) Which one of the standard bank cheque templates (shown in the gallery) you would like us to use
b) The details you would like printed on the cheque - such as payee, payer, $ value , date

c) Whether you require your logo on the cheque (in which case please upload your logo in vector format - usually an eps or pdf file)

2. We will prepare an artwork proof and email it to you for approval

Of course you can always upload your own print ready artwork for the cheque if you prefer.

* 24 hour production is available for orders up to a value of $1000 + GST. Refer to FAQ's for production times on larger orders.