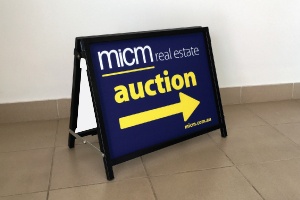 This Signflute™ Insertable A frame is a great alternative to the Endurosign A frame - and gives the real estate industry the flexibility to use the same frame with lots of different messages. Perfect for attracting the attention of potential clients to Auctions, Open Houses, Inspections and any other sales event.
Does the same job as the Endurosign A frame
Same size as Endurosign A frame
Strong powdercoated steel frame
Waterproof and designed for outdoor use
Suitable for 600mm W x 450mm H x 5mm Signflute™ signs
Simply slide the Signflute™ signs into the A frame
Sets up in seconds
Protect the sign when not in use by turning the Signflute™ Signs around
Weight: 4 kgs
*
24 hour production
is available for orders up to 20 frames. Refer to FAQ's for production times on larger orders.
** Fixed shipping of $24 + GST applies for up to 12 frames, for larger quantities an extra freight surcharge of $50 + GST is applied. The fixed shipping price is based on delivering your entire order to one location.