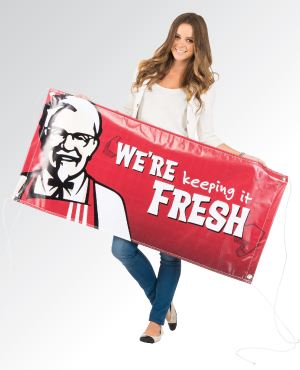 Vinyl Banners are perfect for advertising your events & sales! We print custom vinyl banners in full colour and can finish them with eyelets, ropes, rod pockets, velcro or keder edging for you to hang them up.
NEW! Our banners now look even better with the newly released clear eyelets
Photo Quality Full Colour Digital Printing
Quality 510gsm Vinyl Banner Material
Finishing Methods Include : Ropes and Eyelets, Hemmed Edges and Eyelets, Rod Pockets, Hemmed Edges and Velcro, or Keder Edging
$14 + GST Per Order Fixed Delivery Australia Wide
24 Hour Production for orders up to the value of $500 (from artwork sign off)
Click here to read our blog post on how to select the right finishing method for your banner.
Click here to read our blog post on our new clear eyelets.
Note : Due to the finishing procedure of double sided banners, there is a $400 + GST minimum order value. It is usually more cost effective to purchase multiple single sided banners and hang them back to back where possible.
*
24 hour production
is available for orders up to a value of $500 + GST (For most sizes & finishing methods - Refer to FAQ's for exact production time of your order).
*** Free shipping offer is for orders placed in December only and is based on delivering your entire order to one location.