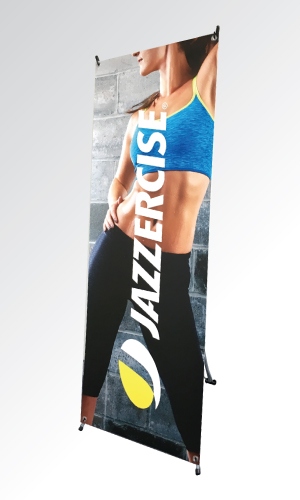 Our X Banner Stand is the perfect low cost display stand. It is ideal for those customers who would like to change the banner regularly, as it takes seconds to remove the existing banner and attach a new one. The stand has a white plastic frame and comes complete with a carry pouch. It is supplied with an ultra smooth 200gsm new generation synthetic banner with full colour digital print.
NEW! Our banners now look even better with the newly released clear eyelets
Light weight strong white plastic frame, perfect for travelling!
Customers can easily change the banners themselves
Ultra smooth 280gsm new generation synthetic banner
Full colour banner included
Size of banner is 600mm W x 1600mm H
Total depth when set up is 400mm
Includes X Stand, Banner and Carry Bag
12 Month Warranty
You can order replacement banners for your X Banner Stands on this page. Check our pricing on the right hand side. *
24 hour production
is available for orders of up to 10 units. Refer to FAQ's for production times on larger orders.
** The fixed shipping price is based on delivering your entire order to one location.