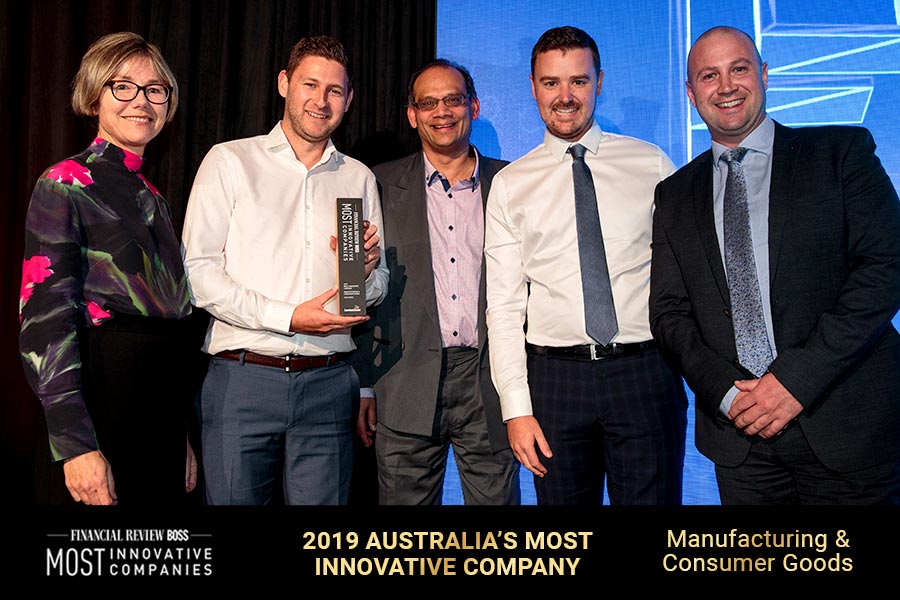 The Australian Financial Review BOSS Most Innovative Companies (previously the BRW Most Innovative Companies list) recognises Australia and New Zealands most innovative companies. In March 2019, Easy Signs was shortlisted, along with some of the most innovative companies in Australia and New Zealand, to compete for the 2019 Most Innovative Companies Award.
The competition was judged by Inventium – Australia's leading innovation consultancy, and the winners were announced on the 8th August 2019.
We are pleased to announce that Easy Signs was awarded the Most Innovative Manufacturing & Consumer Goods Company of 2019 and the Best Innovation of 2019.
It was great to be recognised with such a prestigious award and humbling to be included with some of the most innovative companies in Australia and New Zealand. The Top 10 list in our category included;
Easy Signs
Pact Group
Ryco Filters
Carlton & United Breweries
Viva Energy Australia
Freedom Foods Group
Twinings
Brownes Dairy
Intergria Healthcare
De Bortoli Wines
You can read more about the award here.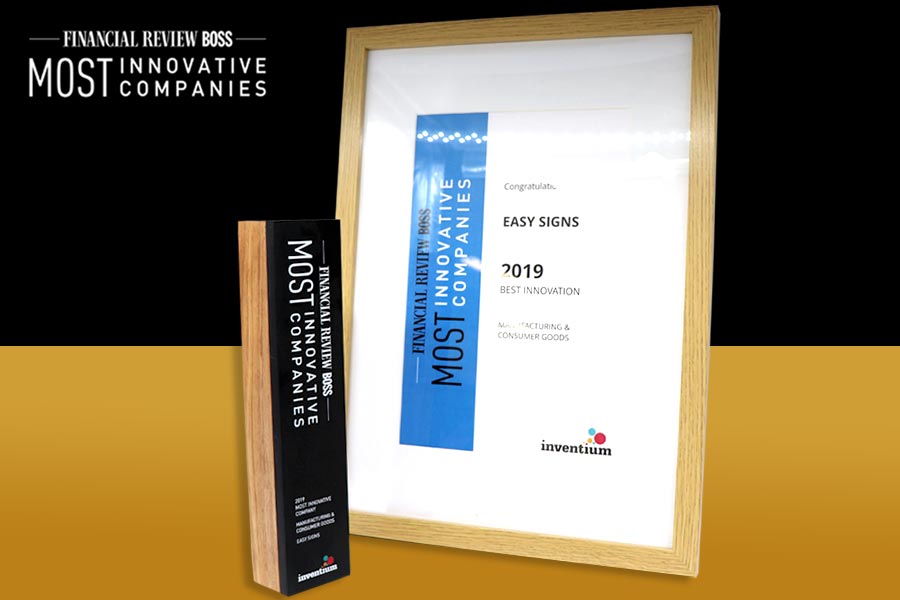 What was the innovation that Easy Signs was nominated for?
Easy Signs was nominated for the process of moving fabric manufacturing back into Australia during 2018/2019. This innovation allowed our customers to have printed fabric signage produced in 48 hours while increasing the quality of the printed product and creating eight new jobs for Australians.
Who was responsible for this innovation?
Special thanks must go to our loyal customers who constantly provide us with the feedback that we need to identify issues that can be solved through continual innovation.
Our loyal customers have always had the desire to competitively purchase printed fabrics without waiting for over a week for them to made by overseas manufacturers. These offshore printers have dominated the Australian market for many years, as a result of their low labour and energy costs.
We listened to this feedback and worked on our goal to efficiently manufacture in Australia so that we could compete on the global stage.
How did we achieve our goal?
We knew that to be competitive, we needed an efficient process to deliver high-quality product, fast. This meant that we had to search the globe for the best fabric printing and finishing equipment that we could find to save time and reduce costs. Finally, in August 2018, we took delivery of our;
Industrial 3200mm wide Dye Sublimation Printer
A 3200mm wide large-diameter Heat Press to fix the inks
A Zund flatbed cutter with tension control and fast registration option, and
Multiple German Manufactured sewing machines with transport tables
However, the investment in hardware was only the first step. We also completed the implementation of an enterprise web-to-print system that focuses on getting jobs to print fast and with minimal waste.
With the combination of the latest equipment and a streamlined process, we could finally deliver what our customers had been asking for.
What is the benefit of Manufacturing in Australia?
Sourcing overseas not only delays the time it takes for a business to get their custom printed fabric, but it also requires slow, expensive and environmentally damaging transport methods while sending labour and money out of Australia.
Manufacturing in Australia gives us greater control over the quality of the product that we deliver to our customers at the same time as reducing the time in which we do it.
This award recognises the hard work of the entire Easy Signs team!