Digitally printed Window Graphics can create a stunning effect when applied across large sections of window panels. In many cases the window panels will have aluminium mullions between them - and these mullions can ruin the effect of the graphic unless they are taken into consideration when setting up the artwork.
What are mullions?
Mullions are metal bars that separate window panels. The mullions can range in width but most commonly are 40mm to 50mm wide.
How are Window Graphics supplied for window panels that have mullions?
It is very common for large window panels to be separated by mullions. When Window Graphics are supplied for these window panels they will be printed, cut and supplied individually for each window. This allows the installer to apply one printed graphic to one window panel at a time, and achieve the best possible result. The alternative would be to supply one large Window Graphic to cover all window panels - but this would result in the installer needing to cut out the spacing for the mullions themselves, presenting difficulties for the installer, and resulting in greater installation times and costs, alongside the risk of a poorer quality job being completed.
Can we just set up the artwork by splitting the image into the number of window panels?
We wish it were that easy! However, if the graphic image is just split into the number of window panels, the right hand side of one image will be the start of the left hand side of the next image. When the total window graphic is viewed, the graphic will not "flow" across the window panels correctly, as the mullions will separate and create gaps in the image.
Here is an example of how the window graphics would look, if the image is set up correctly with the mullions taken out, versus it simply being split up into the number of window panels without the mullions accounted for.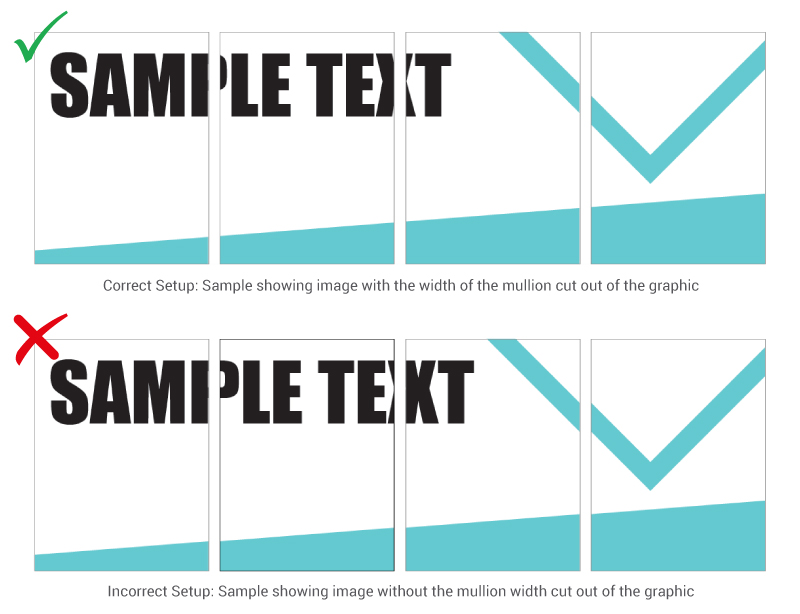 For the second example, when the mullion spacings aren't removed from the artwork, you can see that the image does not flow correctly across the windows.

How should the artwork be correctly set up?
The artwork needs to be set up so that the image that would cover the mullion is cut out completely. This will allow the image to correctly flow from one window panel to the next.
If you can set up your artwork this way, it will be ready to print. This will save you time as well as any costs incurred from our artwork team spending time correcting your artwork.
If you are in any doubt, however, please contact our Customer Happiness Team at .(JavaScript must be enabled to view this email address) or you can get an instant response through Live Chat on our website.
For more information on the products please refer to the web pages: